1920s Art Deco DeVilbiss Glass Lamp Shade Nude Fairies Cat Stars Moon Silhouette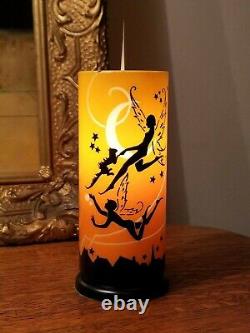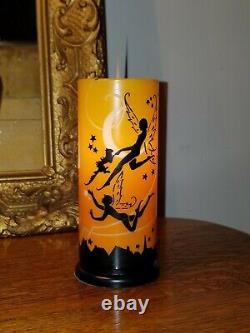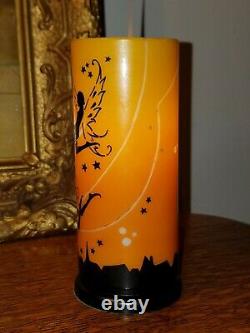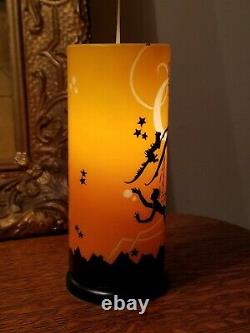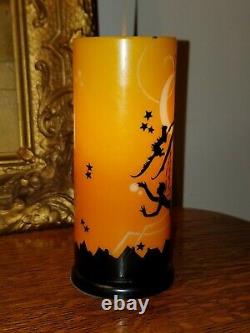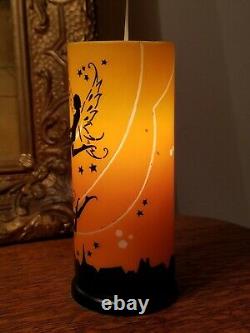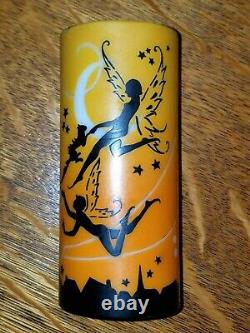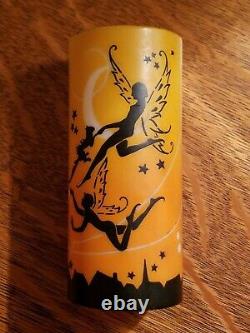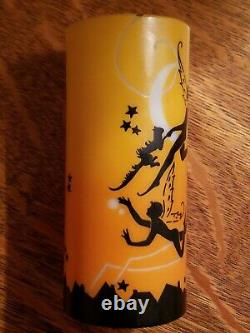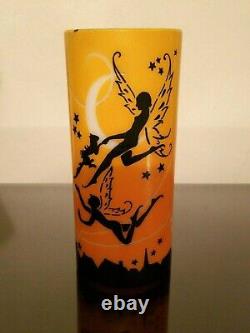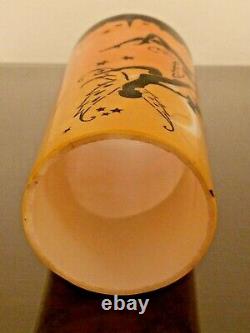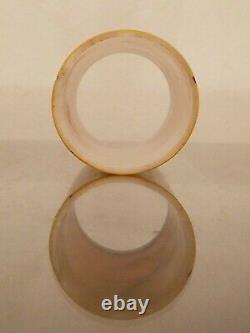 HTF 1920s Art Deco DeVilbiss Glass Lamp Shade. With fairies, a scaredy cat, bubbles, stars & crescent moon. All in silhouette over a cityscape.. A beautiful piece of antique enameled art glass!
Offering this whimsical and wonderful antique 1920s Art Deco DeVilbiss Perfume Lamp SHADE ONLY. The silhouettes are darling; the fairies are playing with a scaredy cat, there are lots of stars, bubbles and a crescent moon over a cityscape.
The inside of the enameled art glass shade is white; the exterior is orange & yellow with silhouettes in black. I really love this piece - the scene is magical! It is in excellent condition... There are no chips, cracks or repairs. Although it is unmarked, based on my research, I feel sure it was produced for DeVilbiss by one of their many suppliers.
It measures 5" tall x 2 1/4" in diameter on both ends. I slipped it over a small electric candle lamp that I have to be able to show how it looks when it's lit. I took lots of photos with and without a flash. As you can see it displays beautifully!
The DeVilbiss Corporation made a less than glamorous entry into the perfume bottle world when they started manufacturing spray nozzles for throat atomizers. Allen DeVilbiss, an ear, nose & throat specialist, had developed and easier and more sanitary way to apply his medicated oil into his patient's throats, this was previously achieved by the use of cotton swabs. This invention proved to be such a success that the physician was able to patent the atomizer and retire from his profession and in 1890, he established the DeVilbiss Manufacturing Company of Toledo, Ohio. Allen's son, Thomas, was active in product development and became a full partner in the company in 1905.
Thomas had wanted to add perfume atomizers to his company's product line for years, and finally gained his father's approval. This would prove to be a very lucrative business venture for the next 30 years or so. The first DeVilbiss atomizers were simple clear glass salt shakers that were fitted with plain metal atomizer mounts; DeVilbiss marketed these as "perfumizers". You will most likely find these early atomizers stamped DeVilbiss Pat Sept.
15, 1908 on the collars. Always looking for something new and exciting, the public bought up these new inventions and the "perfumizers" outsold the medical atomizers.
Thomas modified the design for the medical atomizers and started devoting most of his time to designing and developing new styles of perfumizers. In 1910, he traveled to Europe to obtain glassware for the perfumizers. It was during this time that beauty advisors began to make it known that spraying perfume onto the skin was the best way to enjoy it. For a precious perfume to be encapsulated inside an airtight atomizer, it was safeguarded against evaporation. Shortly after WW1, American soldiers came home from fighting in France bearing gifts of perfume with ornate dispensers for their sweethearts and mothers; it was after this that the atomizer craze began.
DeVilbiss hired Frederic Vuillemenot, a graduate of the Ecole des Arts Decoratifs in Paris, as early as 1924 to be their Chief Designer. He made many successful design contributions to the company. In 1926, the DeVilbiss Manufacturing Company changed its name to the DeVilbiss Company. In 1929, the Societe Anonyme DeVilbiss was established in both Brussels and Paris. DeVilbiss had several suppliers for their perfume bottles starting in 1910, including Steuben, Cambridge, Qeuzal, Tiffin, Fry, Libbey, Fenton, Lenox, Fostoria and Durand.
But their suppliers weren't just centered in the United States, this network circled the globe and included both Daum Nancy and Verreries Brosse of France, Moser of Bohemia, and other companies in Czechoslovakia (who supplied a large portion of bottles from 1925 until 1938), and later, Germany, Murano glass from Italy and porcelain ones from Japan. DeVilbiss would send the glass houses their designs or models of the bottles and would commission the glass houses to manufacture them on their behalf.
It was there that they would then be made in the colors, shapes and types of glass according to their specifications. Some of the bottles were finished products that just needed to be fitted with atomizer mountings at the DeVilbiss plant. The others were known as blanks and were given further decorative elements like hand painted, stenciling or gilt encrustation at the DeVilbiss plant. The company grew and by then they had several hundred employees, plus a few hundred part time local ladies who crocheted the bulb netting as a cottage industry. In addition to their plant in Toledo, Ohio, the DeVilbiss Company opened a plant in Windsor, Ontario to provide their Canadian clients a supply of perfume bottles and vanity accessories. Some items produced there many have been distributed solely for the Canadian market. Two of their bottles had feminine names instead of letters or number series.
The names were: Lucille and Evelyn. The vanity table, this staple in a ladies boudoir encapsulates the pure essence of femininity.
Many accessories would be present to aid the lady during her toilette ritual. Items such as vanity trays would hold perfume bottles, colognes, powder jars, pin trays, candlesticks, and later the small ashtrays. Also strewn upon the vanity table would be various ointment jars, face powders, cosmetics, toilet waters, rouge pots, manicure implements, powder puffs, compacts, brushes and a hand mirror. Some ladies also had small scented sachets to perfume the drawers. DeVilbiss also offered powder boxes, ginger jars, cigarette boxes, ashtrays, match holders, candlesticks, trays and perfume lamps in their catalogs that would match their perfumes. These matching items make lovely vignettes when grouped together. Perfume lamps were preceded by a PL in catalogs, in earlier catalogs they were simply called Perfume Burners and were preceded by a B with their style numbers following. I've been collecting for decades, and will be listing many more pieces as time and energy permit.
Please contact me if you have any questions or want additional photos. I describe all items honestly and to the best of my ability.
My goal is to have happy, repeat customers. Thank you for your interest and good luck!
It will be packed with great care to assure safe arrival. Please keep this in mind if you make an offer. All of my items come from a smoke free home. The item "1920s Art Deco DeVilbiss Glass Lamp Shade Nude Fairies Cat Stars Moon Silhouette" is in sale since Wednesday, December 16, 2020.
This item is in the category "Collectibles\Vanity, Perfume & Shaving\Vanity Accessories". The seller is "hollywood0_7" and is located in Columbia, South Carolina. This item can be shipped to United States.
Modified Item: No
Brand:: DeVilbiss
Country/Region of Manufacture: United States