Amazing 12ft Christopher Guy Designer Art Deco style table French Polished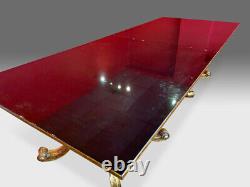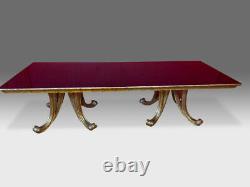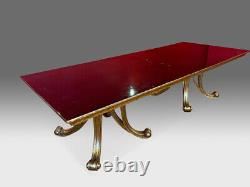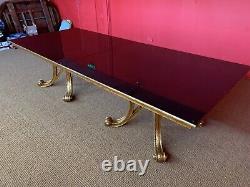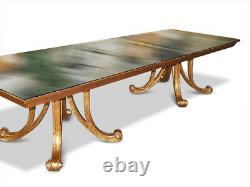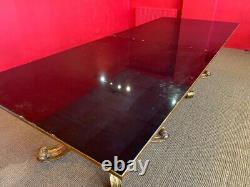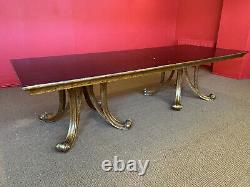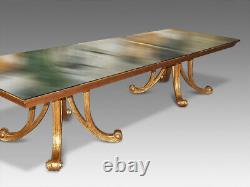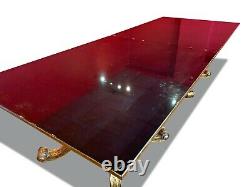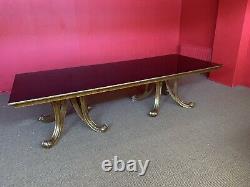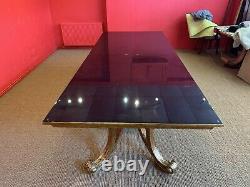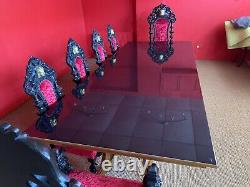 A simply gorgeous Christopher Guy designer Grand Art Deco style glass top dining table. This table is from the world famous designer. This table would of originally costs many many thousands of pounds!!!! It will have just been French polished to show off the beautiful top & will have once again that deep lustrous shine & gleam to it that still only hand French polishing can achieve using the very finest modern table top French Polishes & materials to obtain the stunning finish we desire, which also now give quite a hard & heat resistant finish compared to the old French Polishes of the past. The tops also have 3 glass tops to fit perfectly on the three tops, to help protect the table and show it off perfectly to give it the complete wow factor!!!
This Dining table is of the very highest quality from the materials used & by the way its been hand constructed by highly skilled Cabinet makers. It comes with one extra table central leaf in what will be a wonderful showroom condition.
This very attractive table will very comfortably seat 12 people & would make an excellent new addition. The Dining table dimensions are as follows. Length: Just under 12ft max.
Max: 11.9.7ft, 360cm 141 inches, 3600mm. Width: 1200mm, 3.11ft, 47 inches, 120cm. Height: 31 inches, 795mm 79.5cm. Once French polished, the fully finished article and would grace any home, shop, business or showroom. Please dont hesitate to contact me with any questions on 07966366338. You are most welcome to view this fine piece in person, from prior arrangement. Please ask for a quote. Although are prices we feel are very fair and competitive for such high quality Antique furniture. At CMC Designs UK we have over 20 years experience of French Polishing & restoration working with all aspects of fine Antique furniture, Modern furniture & fine Art work. & working for such clients as Harrods, London, & many other prestigious clientele. Working to a very high standard of workmanship & finish using only the very finest products & materials to achieve the finish we require. Has we are effectively an internet company we do not carry the overheads of running a shop & the expences that incurs. There for we can offer extremely high end professionally hand French Polished fine Antique furniture at exceptionally competitive prices.
This helps us offer such amazing prices too. We also accept digital currency.
All sales & work carried out are subject to are full terms & conditions below. 1 Purchasing / Placing an order and French polishing/restoration work. This applies to any restoration or French Polishing work too, which must also be paid in full, prior to the return of the restored or freshly French Polished item or items. Crypto currency payments are considered by prior discussion. Whilst we try not to charge for consultation in the process of purchasing our items or our handmade bespoke items.
This process can take many hours and even many days often too, to which unless the order is placed, we are not financially rewarded for, or to even cover our costs and extensive time spent. So we reserve the right to charge for our time on extensive consultations without an order being placed on specific occasions. This also protects us as a business from time wasters and pranks, as our time is very precious, especially only being a relatively small but elite company.
3 Subcontractors working on behalf or for CMC Designs International. You are expected to be fully insured to be working on any of our items or any of our clients items, either be it at our own workshops or at your own work premises or work facilities or on site for CMC Designs UK.
Any damages incurred on any of our items or clients items, or premises, home etc, then you are fully responsible and would be fully expected to cover and pay for any costs incurred 100% for the full amount for any damage etc. This also applies to transport companies working for CMC Designs International.
If you are not fully insured to the required standards, then you should strictly not be working for CMC Designs International and you are liable for legal prosecution under current EU and UK law. Outside England, UK rest of the world prices do vary accordingly. We do try to dispatch our items as fast as we can, but the item must be to our very high standards before we send it. This may lead to a very small delay in dispatch of the piece if it requires any finishing touches before we dispatch it.
But you shall be notified of any delay in advance. Although we try are utmost to make sure are items are sent out in the best possible condition we can send them.
& with much previous correspondence that the customer is fully aware of what there purchasing & the current condition the items are in & with any imperfections highlighted. You are responsible for its care & well being. Bespoke made to order specialist items. Unless there is a genuine valid reason, i. E the item was made or delivered not has described, or below our highly skilled acceptable standards, or with significant problems i.
Has every business is suffering with the dawn of a new age with the emergence of Human Medical conditions such has the Has every company struggles to work under these conditions and restrictions now, with possible staff, and CMC team members in the high risk categories, delays are unfortunately inevitable sometimes. Especially with Worldwide Government enforced lawful Lockdowns occurring sporadically. This however, is not deemed a valid reason to cancel any orders previously placed or restoration work pre booked in. We will complete your order or restoration works as soon as we can, working as best we can through whatever restrictions are in place. When carrying out work on site, either for a private client or business.
This contract shall be governed exclusively by the law of England & Wales. All disputes arising out of this contract shall be subject to the jurisdiction of the courts of England & Wales.
Nether party shall be liable for any default or delay due to act of God, war, strike, Serious Human medical conditions , or lock-out, industrial action, fire or any other event beyond the reasonable control of either party. We are not currently VAT registered, so there is no VAT to be added on to any orders or work we carry out. 10 How to Maintain a CMC Designs International freshly French polished item. Any piece of furniture should be dusted on a regular basis; ours is no different. Using a soft clean cloth always wipe in the direction of the grain and avoid circular rotating movements.
To remove any greasy marks use a soft cloth lightly dampened with warm water mixed with a little vinegar or mild detergent such as washing up liquid. Apply the solution wiping in the direction of the grain and after wiping using a clean dry cloth lightly buff up the surface, again wiping in the direction of the grain. For stubborn marks substitute the water solution with white spirit or turpentine and apply in the same way as above before buffing with a clean soft cloth. It should be noted that if the white spirit / turpentine solution is used to often you will need to re wax the surfaces being cleaned.
PLEASE NOTE UNDER NO CIRCUMSTANCES SHOULD ANY SILICONES OR SILICONE IMPREGNATED CLOTHS BE USED IN ANY OF THESE CLEANING OR WAXING PROCESSES. If applied they can leave a silicone film that will cloud the finish and in turn prevent general repairs being carried out easily.
The final finishing process involves completely waxing your piece of furniture by hand therefore all CMC Designs furniture that leaves are showroom will not need to be waxed for at least twelve to eighteen months. When new wax is applied, a non silicone furniture wax should be used very sparingly. Apply any wax using a soft clean cloth again wiping in the direction of the grain. A second clean cloth should then be used to remove any excess wax and to buff the surface.
The item "Amazing 12ft Christopher Guy Designer Art Deco style table French Polished" is in sale since Wednesday, August 25, 2021. This item is in the category "Antiques\Antique Furniture\Tables". The seller is "cmc-designs-international" and is located in Suffolk.
This item can be shipped worldwide.
Colour: Black & Gold
Style: Art Deco
Item Height: 79.5 cm
Item Width: 120 cm
Material: Wood
Product Type: Tables
Type: Dining Table
Antique: Yes
Finish: French polished
Item Length: 360 cm
Brand: CMC
Time Period Manufactured: Pre-Victorian (Pre-1837)