Antique Vintage Deco Style Sterling Silver Cat's Eye Chrysoberyl Bracelet 10.5g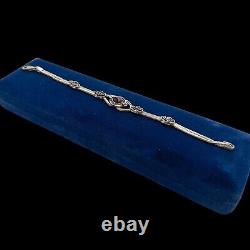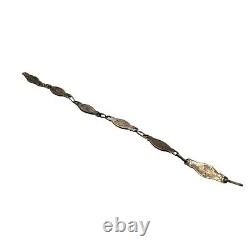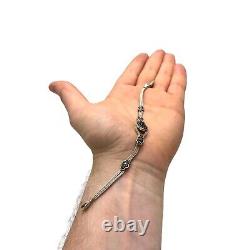 We have similar Chrysoberyl and Art Deco items, which would pair nicely with this piece, for sale this week. Listing Description by: Angela A.
Markings : 925' on the clasp. Main Stone : Cat's eye chrysoberyl. Color: opaque deep purple hue with chatoyancy.
Stone Treatment : The stone(s) appear to be untreated, but we are not certified gemologists. Stone(s) have been tested and guaranteed using a professional Presidium Duo refractive, heat, and hardness tester. Handmade in the style of the Art Deco era.
Features a cat's eye chrysoberyl, its cabochon cut beautifully displays the chatoyancy effect that appears as light moves across the stone's face. The stone is strung on two lengths of double snake chain, held together by slider charms in the Etruscan style. Tarnish on the silver can be removed or lessened with a buffing. The price has been reduced to reflect this. This listing is for the item only. The Art Deco era is famous for being the "Gatsby" or "Roaring Twenties" era.
A lot of gorgeous and timeless designs in jewelry came out of this period. Jewelry from this period was most often crafted between 1920 and 1940.
Art Deco jewelry sometimes featured white gold or platinum, geometric designs, European cut diamonds, filigree, and calibre cut stones that are specifically cut to fit the design of the piece. During the Art Deco period jewelers often made jewelry upon custom order, this would often take weeks to months to completely craft by hand.
Cat's Eye Chrysoberyl is popular gemstone that ranges in color from golden honey, lemon yellow, to mint green hues with a translucent appearance. The cats eye effect, or chatoyancy, is what gives this stone it's unique characteristic; very fine inclusions cause a bright line to appear across the stone, and glide across it, when light hits it. Caty's Eye Chrysoberyl also a "milk and honey" effect, which causes one side to appear milky when light is directed at the side. Found in Brazil, Sri Lanka, and East Africa, where they are believed to aid in protection, provide good luck, and bring positive thoughts and harmony.