Bronze Cat Statue Antique Giacometti Bronze Sculpture Abstract Home Decor Crafts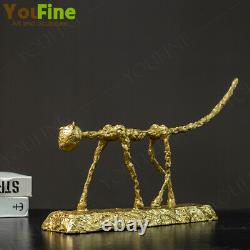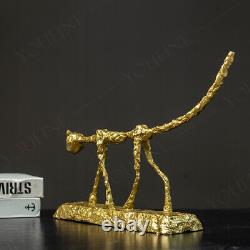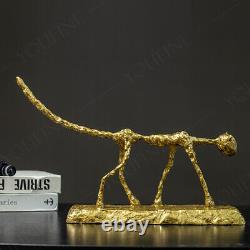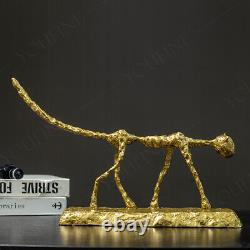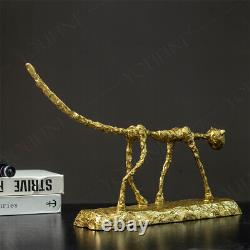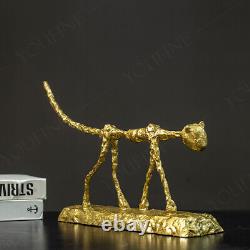 Bronze Cat Sculpture Bronze Cat Statue Inspired by Alberto Giacometti Abstract Cat Statues Art Decor Gifts. The Statue Is Inspired By Alberto Giacometti'S 1951"Cat" Sculpture Which Arose From A Memory Of His Brother Diego'S Pet Moving, "Just Like A Ray Of Light". "Cat" is one of Alberto Giacometti's most familiar and important works in the postwar period.
The cat is slender, with limbs and body balanced in a straight line, waiting for the opportunity to gather momentum. Traditional lost-wax hot casting technology. Exquisite craftsmanship and great details. S it ok to custom make the bronze statues for me?
We are a professional bronze Dog sculpture foundry and very good at custom-made services. Customized Service -- Patina (Color). There are several popular patinas (colors) for bronze statue. If you already have the design you want, you can send it to us, along with your requests about its size and patina. We will make a quote for you within 24 hours. If I need to customize a sculpture, what should I do? Send us your design picture and requirements and allow our Sculptors to produce a clay model for your approval.
If you have no photos or sketches or original models, simply outline your concept and allow us to produce a suitable design and then sculpt the model for your consideration. Where is your factory location? Our factory is located in Quyang county, "the Town of Carving" in China. What is your main advantage? We have over 38 years history in this field.
Normally inner packing is plastic film and foam and outer packing is wooden crate. We will ensure the sturdiness and integrity of the package, and ensure that you can receive the package safely and efficiently. What is the lead time?
How do I clean and maintain a bronze sculpture? Remove dust with a damp cloth. Do not use metal objects or wire brushes to clean the sculpture. Do not apply abrasives or cleansers that will possibly scratch the finish.
ZUD - Non- Abrasive Cleaner. Use to remove stubborn stains. Zud cleans all metal surfaces including bronze.
Zud can be used in powder or liquid form. Lemon Oil - Apply a small amount of oil with a paintbrush or soft cloth. Cover the entire figure with oil. Wipe the surface gently with a soft cloth to take off the excess oil. Paste Wax - A very thin, even coat of wax should be applied with a soft cloth.
Allow the wax to sit and dry before polishing. Wax should be applied after bronze has been cleaned and dried. Do not apply if using lemon oil. Do Nothing: Many bronze owners prefer to sit back and enjoy the natural reaction and aging process of their sculpture. Bronze is an alloy dating back to 4500 BCE composed of varying amounts copper and tin.
Though pre-dated by another bronze alloy combining copper with arsenic, tin bronze has remained relatively unchanged since its discovery in the 3rd millennium BCE. Two forms of tin bronze were used during the Bronze Age,'mild bronze' - which was 6% tin, hammered thin, and used for objects such as armor - and'classic bronze', a composite with 10% tin that is still used for casting objects today. The alloy is particularly strong, ductile, and, because its oxidation process prevents corrosion, extremely durable. The material is in fact so durable, that despite the earliest known cast bronze dating back to 2500 BCE, there are comparatively few examples of large bronze casts because, as boundaries changed and kings fell, they were often melted down and repurposed.
The alloy has been used around the world since antiquity, including by the ancient Greeks, who considered it the highest form of sculpture and were the first to scale bronze figures to life-size. It remains the most desired material for monumental statuary. As bronze ages, verdigris - a blue-green patina - forms on the surface. This is caused by the oxidation of the alloy during which a very superficial layer reacts to the oxygen in the air and becomes copper carbonate.
This verdigris acts as a shield preventing any significant corrosion, but can also be easily removed without harming the sculpture's integrity or durability. This should be done with a specialized bronze cleaner and a soft sponge.
Bronze is an inherently durable alloy which, with some care, can retain its original condition and quality for decades and centuries. One Unique YouFine sculpture, follow generations.
We are proud to have YouFine statues all over the word and to have witnessed the feedback we have received from each and every one of our customers. Your satisfaction is our pursuit. We believe that every statue has a soul and that only statuesmade with care can be the best decoration. This item is in the category "Art\Art Sculptures".
The seller is "youfine2020" and is located in this country: CN. This item can be shipped worldwide.
Unit of Sale: Single Piece
Use: Decoration Collection Ornament Gifts
Size: Medium
Quantity: 1pc
Material: Bronze
Item Length: 38cm
Subject: Art, Cats, Abstract
Brand: YouFine
Type: Sculpture
Format: Statue
Item Height: 25cm
Style: Abstract, Art Deco
Production Technique: Bronze Casting
Net Weight: about 1.7kg
Item Width: 8cm
Handmade: Yes