Bronze Sculpture by Milo Cat Gato Feline Pet Animal Art Deco Statue Figurine Art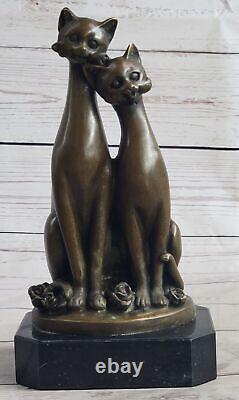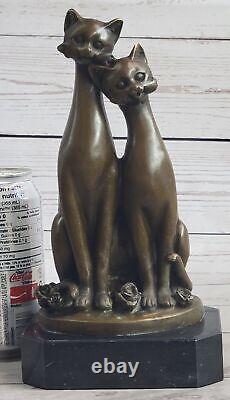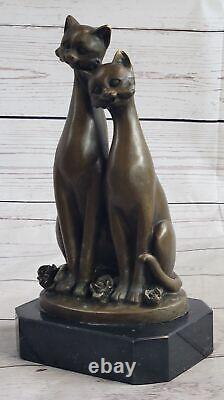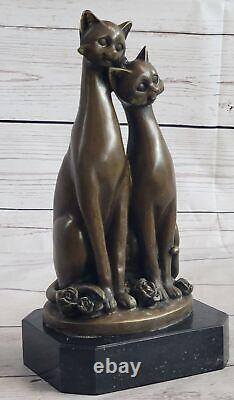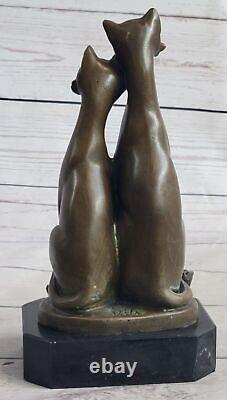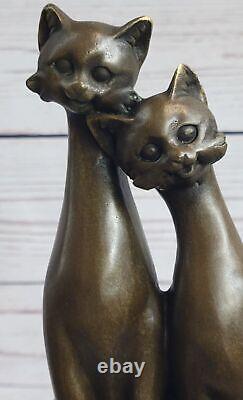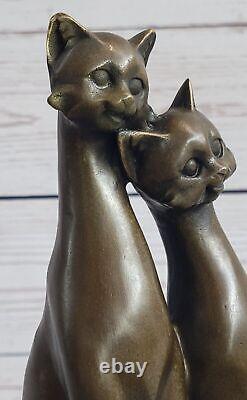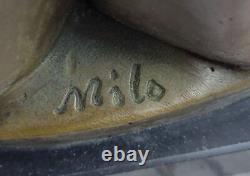 Bronze Sculpture by Milo Cat Gato Feline Pet Animal Art Deco Statue Figurine Art. Condition: This sculpture is in perfect condition Bronze Dimensions with Marble Base: Height 9 X Width 5 Marble Dimensions:5 x 4 Height without base:8 Weight:6 LBS Inventory:28Y1932882. This captivating bronze sculpture depicts a pair of slender cats sitting side by side, their bodies emanating a sense of grace and tranquility. With their saucer-like eyes and gentle purring, they exude an aura of contentment and serenity. Delicate rose buds scatter on the ground beneath their dainty paws, creating a whimsical atmosphere that adds to the charm of the scene.
Cats have long been associated with various attributes such as cleverness, mystery, and intelligence. These feline companions are known for their intuitive nature and their ability to tap into the supernatural. Their independence and astuteness further contribute to their enigmatic and captivating presence. The artist has skillfully captured these qualities in this bronze sculpture, showcasing their elegance and the depth of their character. Crafted using the traditional Lost Wax casting method, this bronze sculpture exemplifies the meticulous craftsmanship and attention to detail.
The brown patina finish adds a timeless appeal and serves as a protective layer, ensuring the longevity of the artwork. Mounted on a sleek black marble base, this sculpture stands as a testament to the artist's talent and dedication. The signature of the renowned artist Milo further attests to its authenticity and artistic value, making it a cherished addition to any art collection or a delightful gift for cat lovers and art enthusiasts alike.
Virgin Islands, however, an additional charge may be required. New Detailed Hand Crafted Hot Cast Bronze Not Resin Satisfaction Guaranteed.
This is Stock Photo, Slight Color Variation! Listing and template services provided by inkFrog.