Egypt Nude Queen Cleopatra And Big Cat Bronze Art Deco by Lost Wax Method Figure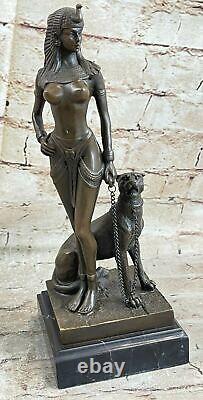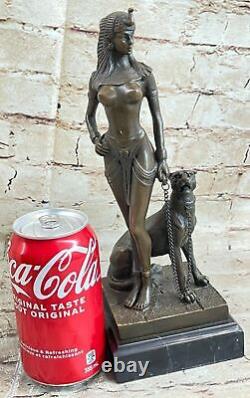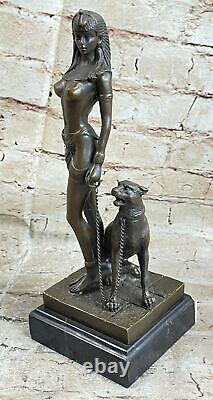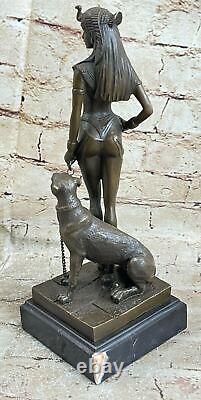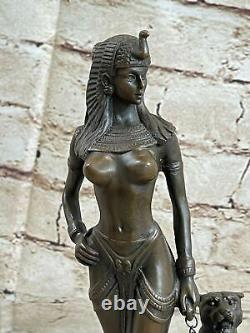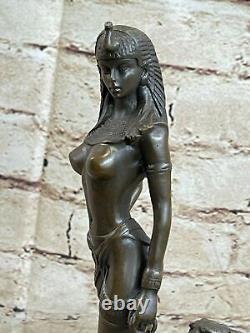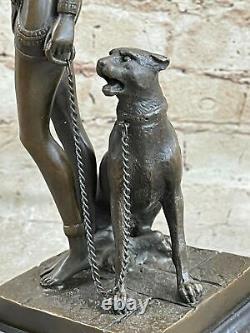 This sculpture is in perfect condition. Bronze Dimensions with Marble Base: Height 10 1/2" X Width 4". Marble Dimensions:4 " X 4". Height without base:9 1/2. This exquisite sculpture portrays an Egyptian Queen in all her regal splendor.
With remarkable attention to detail, the artist has captured the grace and allure of this iconic figure. The queen stands in a captivating and confident pose, exuding both power and beauty. Her figure is adorned with a fitted skirt that accentuates her waist and thighs, while her bare upper body adds a touch of sensuality to her presence. Her gaze is both soft and commanding, as she directs her attention to the left with a firm determination. Adding to the grandeur of the sculpture, a loyal guard dog stands faithfully by the queen's side, symbolizing protection and vigilance.
The queen's attire is adorned with a stunning Egyptian-style beaded hat, elevating her appearance with a touch of elegance and sophistication. This handmade bronze sculpture has been meticulously crafted using the traditional "Lost Wax Method, " ensuring its exceptional quality and durability. Made entirely of solid bronze, it features a two-tone brown patina finish that accentuates the intricate details and textures of the artwork.
The sculpture bears the signature of the talented artist Cesaro, a mark of authenticity and craftsmanship. This sculpture of an Egyptian Queen is a captivating and magnificent piece of art that will undoubtedly become a focal point in any collection or space.
Its striking design, meticulous craftsmanship, and the artist's attention to detail make it a true masterpiece. Whether displayed in a home, office, or gallery, this sculpture invites viewers to appreciate the timeless beauty and allure of ancient Egyptian culture.