Sanyu style Chinese French ink drawing paper leopard cat art deco Chang Yu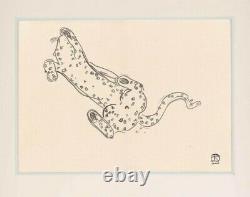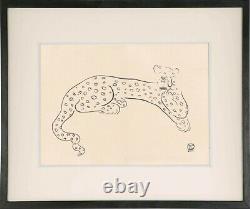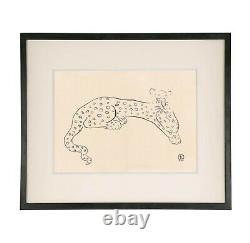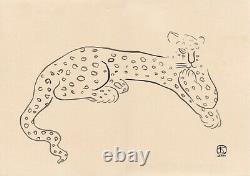 Sino-French Ink Drawing after Sanyu. On offer is a beautiful ink and gouache or watercolour on paper drawing after Sanyu, of a leopard or cat rolling.
San-yu was a historically significant modernist Chinese painter, the first to study in Paris and adopt western modernist principles and techniques. This item appears to be a hand made possible student copy or homage work.
Has a'Sanyu' calligraphic style stamp at bottom of sheet. Dimensions: Sheet size: 42 x. Cm, on thick art paper, no watermark.
Condition: Drawing shows some toning, please inspect images. The images are accurate, and from high resolution scans.
Chang Yu was born in Nanchong, Sichuan Province, on 14th October 1901. His family owned one of the largest silk-weaving mills in Sichuan, the Dehe Silk Factory, which was managed by Sanyu's eldest brother Chang Junmin. The business was so successful that Junmin earned the accolade Millionaire Chang of Nanchong and the annals of the city of Nanchong record and applauded his accomplishments. Thirty-seven years older than Sanyu, Junmin doted on his younger brother and, recognizing his interest and talent in art, spared little to support and encourage all his artistic endeavours. The family's wealth allowed Sanyu to be schooled at home, which included calligraphy lessons with the Sichuan calligrapher Zhao Xi (18771938) and painting lessons with his father, known in Nanchong for his skill in painting lions and horses.
Growing up in Nanchong, approximately 300 kilometres from Chengdu, Sanyu was most probably unaffected by the discontent that was brewing in the major cities of China at this time. After the overthrow of the Qing dynasty and the founding of the Republic in 1911, China was faced with growing autocracy from within and encroaching imperialism from without. Crippled by these dual tensions, compounded by the ineffectiveness of antiquated social and political systems, China was rendered impotent, forcing many to reassess the predicament of their torn nation. The unacceptable terms of the Treaty of Versailles forced a counter-movement that gained momentum through student organizations across the country, culminating in the historic May Fourth Incident. Academicians and students led the revolt against foreign infringement of China's territorial sovereignty and rights to self-rule. They recognized that to regain their country's integrity, and China needed to strengthen itself through reform. A unified voice demanded the rejuvenation of the country through modernization, which, at that time, meant Westernization.
Many resolved, therefore, to travel abroad to learn the ways of the West in order to benefit their troubled nation. As a response to this call, students travelled to France under a government-sponsored work-study program. Although it is uncertain whether Sanyu participated in this program, his decision to make France his destination in 1921 was no doubt inspired by the migrating wave of art students, such as Xu Beihong and his partner Jiang Biwei with whom Sanyu became close friends. [1] Xu and Jiang, who had arrived a year before Sanyu, were already finding life in the City of Light too costly for their meagre income and decided to move to Berlin where living was cheaper.
Sanyu, with no set agenda in Paris and unfettered by financial concerns, thanks to Junmin's generous support, decided to go along with them to Berlin. During this time, Sanyu formed friendships with other Chinese artists and writers, but instead of making art, they formed a culinary club, gathering daily to plan and prepare gastronomic specialities of their hometowns and having a good time. Only two works by Sanyu, Peonies and Landscape with Willow Trees, both painted in traditional brush and ink style, survive, further attesting to the lack of artistic activity during this period.
While most of the Chinese art students aspired to enrol in the esteemed École Nationale supérieure des Beaux-Arts, Sanyu preferred the less academic environment of the Académie de la Grande Chaumière. Here, Sanyu plunged into what to him was the exotic world of nude drawing.
One can imagine the excitement the young Sanyu must have felt being in a studio where nude models, forbidden at home, posed at arm's reach. In this free and uninhibited environment, he could experiment with Western sketching techniques to explore and express the lines of the human form.
Sanyu's early works in Paris comprise exclusively ink and pencil drawings of nudes and figures, of which over 2000 examples survive today. Since Sanyu was trained in Chinese calligraphy in his youth, it is not surprising that a majority of his nude drawings was done in Chinese ink and brush. The trained calligraphic stroke, with its varying innuendos, afforded Sanyu a unique chance to delineate the human body, not so much in terms of its anatomy but more as a means of expressing the beauty and sensitivity of a flowing line. With only a few strokes, relying on the fluidity and innate qualities of brush and ink, he was able to capture the essence of his subject. Sanyu, along with Xu Beihong, Yan Wenliang, Lin Fengmian and Liu Haisu (collectively, the Four Great Academy Presidents) is widely known as the most prominent first-generation Chinese oil-painters who studied in France in the early 1900s.
The item "Sanyu style Chinese French ink drawing paper leopard cat art deco Chang Yu" is in sale since Thursday, April 8, 2021. This item is in the category "Art\Art Drawings". The seller is "atticism" and is located in Collaroy, NSW.
This item can be shipped worldwide.
Size: Medium (up to 36in.)
Region of Origin: Asia
Artist: Sanyu, Chang Yu
Colour: Brown
Style: Modernist
Listed By: Dealer or Reseller
Date of Creation: Unknown
Year: Unknown
Width (Inches): 16.5
Subject: Animals
Originality: Unknown
Height (Inches): 11.5