Tiger Safari Big Cat Lover Collector Bookend Bronze Marble Statue Heavy Deco Art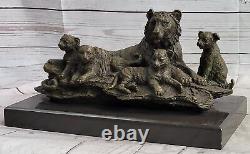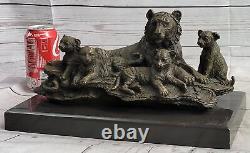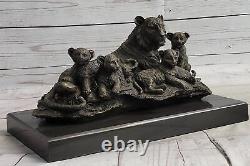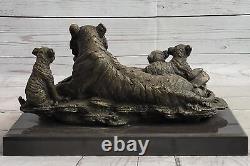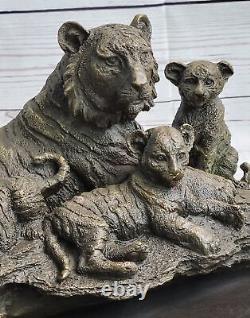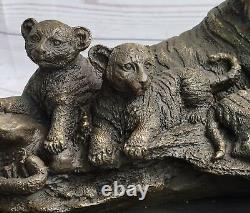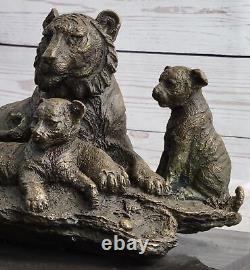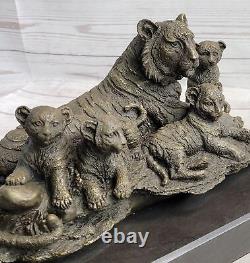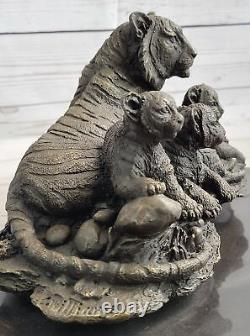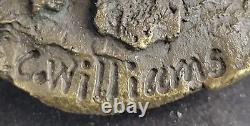 This sculpture is in perfect condition. Bronze Dimensions with Marble Base: Height 7" X Width 13". Nbsp;Marble Dimensions: 13" X 7".
Introducing a magnificent bronze casting depicting a tiger and her four cubs, this sculpture exudes a captivating beauty. The artist has masterfully captured the energy and vitality of the scene, showcasing exceptional skill and attention to detail.
The sculpture stands proudly on a sleek black marble base, providing a striking contrast that enhances its visual appeal. The sturdy base ensures stability and adds a touch of sophistication to the overall presentation. Crafted using the revered lost wax method, this sculpture embodies the timeless artistry and craftsmanship associated with this traditional technique.
The meticulous process involves sculpting a wax model, encasing it in clay, and then replacing the wax with molten bronze. This ensures that every intricate detail is preserved, resulting in a sculpture of outstanding quality.
It is worth noting that the sculpture is signed by the artist, Williams, adding both authenticity and value to the piece. The signature serves as a testament to the artist's dedication and recognition within the art community. Perfect for adorning a home or cabin, this bronze sculpture adds a touch of elegance and charm to any space. It serves as a remarkable centerpiece, sparking conversations and evoking a sense of awe among viewers. The depiction of a tiger and her cubs symbolizes strength, protection, and the bonds of family, making it a meaningful and cherished addition to any decor. In summary, this gorgeous bronze casting of a tiger and her four cubs is a testament to the artist's ability to capture the essence of the scene with remarkable skill and precision. With its stunning details, solid craftsmanship, and elegant presentation on a black marble base, this sculpture is an ideal choice for those seeking a remarkable piece of art to elevate their home or cabin decor.