Vintage Art Nouveau Panther Lithograph Poster Rembrandt BUGATTI'60s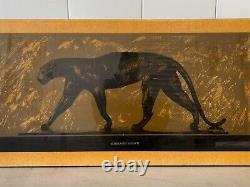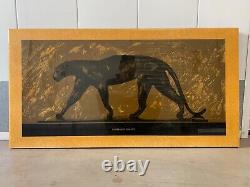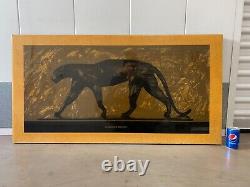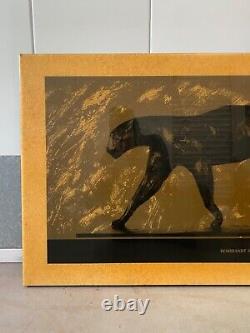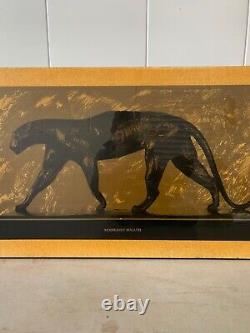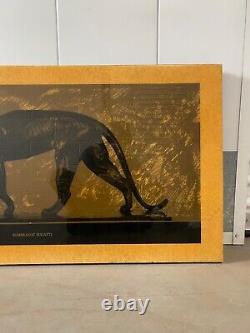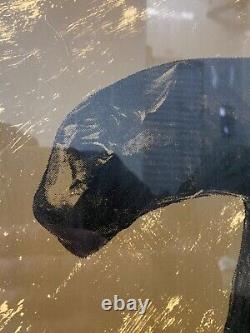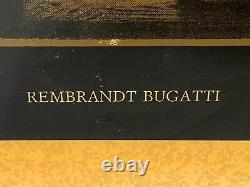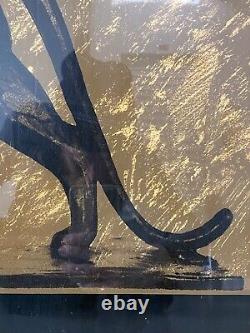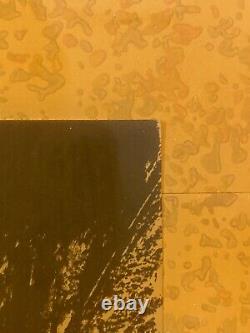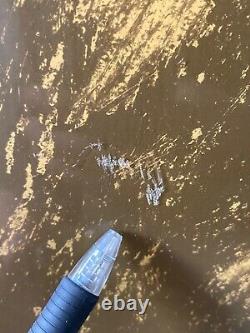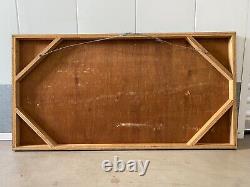 This is a very stylish and rare Vintage Art Nouveau Panther Sculpture Lithograph Poster, depicting the work of famed Italian sculptor Rembrandt Bugatti (1884 - 1916,) brother of Ettore Bugatti, the founder of Bugatti motor works. This piece features Bugatti's most famous work, the Panthere marchant (1904,) and is mounted in a laminate acrylic frame it cannot easily be removed from the frame. This piece likely dates to the 1960's - 1970's and was acquired from the contents of an affluent estate in Hollywood Hills, California. Under the imposing panther sculpture, this work reads: Rembrandt Bugatti. I have been unable to find any comparable poster to this one, and I believe it is quite uncommon and seldom seen on the market. Approximately 23 x 44 inches including frame. Actual artwork is approximately 18 1/2 x 39 inches. Due to the unusual measurements of the poster, I believe that it was produced in Europe.
Rembrandt Bugatti famously designed the rearing elephant figure for the radiator cap of the Bugatti Royale. Sadly, this profound sculptor's life was cut too short. Good condition for age and storage, with some light scuffing to the frame and moderate yellowing to the acrylic laminate from decades of age. If you like what you see, I encourage you to make an Offer. Please check out my other listings for more wonderful and unique artworks!
Was born on 16 October 1884 or 1885 in Milan. From a family of artists, Rembrandt is known for his sculptures of animals, most famously for the rearing elephant he created to serve as the radiator cap for the Bugatti Royale.
(Type 41) designed by his brother Ettore. Despite the whimsical nature of his subjects, both wild and domestic animals, Bugatti suffered depression and committed suicide at age 31 in 1916. His sadness was likely brought on by the forced execution during World War I of many of the animals resident at the Antwerp Zoo. Given a studio by zoo officials in 1907, Bugatti had used many of the Antwerp animals as his models.
Bugatti also suffered financial difficulties, which likely contributed to his tragic decision to end his life. Was an Italian sculptor, known primarily for his bronze sculptures of wildlife subjects. Born in Milan, into a family with a strong and long tradition in the arts, Rembrandt Bugatti was the second son of Carlo Bugatti and his wife, Teresa Lorioli. Father was known for his exotic and fanciful furniture, silver, metalwork and musical instruments.
His older brother was Ettore Bugatti who became one of the world`s most famous automobile manufacturers. His father was known for his exotic.
And fanciful furniture, silver, metalwork and musical instruments. Born in Milan in 1884, Rembrandt Bugatti was one of the most talented sculptors of the twentieth century. In a career that spanned little more than a dozen years before it was cut short in 1916 by his tragic suicide at the age of 31, he created a prodigious body of work. His art combined huge technical finesse, formal beauty, intensity of expression and subtle stylistic inventiveness. Bugatti regularly visited the zoos at the Jardin des Plantes in Paris, and Antwerp, and he always modelled his works directly in front of the animals that were his subjects.
At the age of nineteen, he came into contact in Paris with the bronze founder Adrien A. Hébrard, and held his first exhibition at the Galerie Hébrard in 1904. He signed a contract of exclusivity that year, and was to show annually at Hébrard's gallery until 1913. Whereas the modelling of his contemporary Paul Troubetzkoy appeared quick and slick, every mark counted in Bugatti's brilliantly sculpted pieces. Using plastilene, he pinched, nipped and pressed the material with immense skill.
His fingerprints cover the works. Rather than try to depict fur or feathers with scratched markings, he did as Auguste Rodin had done before him, and conjured up a heavily fingered, painterly surface, upon which the light plays to give a sense of life and movement. By the age of thirty, Bugatti had already built up a large and varied oeuvre of some 300 sculptures.
His work gradually lost its Impressionist character and became more heavily structured, built up of parallel ribbons of clay, which act like the painter Paul Cézanne's hatched brushwork. He seemed the natural successor to Antoine-Louis Barye.
But he was by all accounts a difficult and lonely character, and, deeply affected by the First World War and unable to stay in Antwerp where he had spent extended periods, he committed suicide by gassing himself in his Montparnasse studio in January 1916. Although his work is in the world's major museums and is highly prized by collectors, Bugatti has only recently begun to be widely recognised in mainstream writing on twentieth-century art. Son of the great fin de siècle designer Carlo Bugatti, who had a huge impact on his talent, and younger brother of the epoch-making car designer Ettore Bugatti, the audaciously named Rembrandt has emerged as a shadowy personality in the history of the European artistic community before the First World War. For too long after his death he was often dubbed'the other Bugatti', since little was known about his life and he did not fit into recognised art-historical movements.
The controversial debuts of Fauvism and Cubism had been concurrent with Bugatti's own emergence on to the French art scene, and his work was inflected by Expressionist, and even Cubist, traits. He had won the admiration of the celebrated French sculptor Auguste Rodin, attracted the attention of the poet and critic Guillaume Apollinaire - the great promoter of Pablo Picasso - and been acclaimed by Louis Vauxcelles, the major critic of Cubism and Fauvism. He had affinities with other artists of his generation, such as Amedeo Modigliani in France, Franz Marc in Germany and Henri Gaudier-Brzeska in England, all of whom also died tragically young. Like them, he developed an expressive language, which was drawn partly from the vocabulary of Impressionism and Post-Impressionism. He also had in common with them a deep understanding of world art, dating back through the ages, and he wished to invest the culture he absorbed in museums with a vitality and freshness he felt in his contemporary life. Bugatti knew the grandeur of Renaissance animal bronzes and equestrian sculptures by artists such as Giambologna and Verrocchio. He knew the antique reliefs of Greece and Rome and the mythical horses of the façade of San Marco in Venice. He knew also the nineteenth-century'revival' of animal subjects ushered in by sculptors such as Barye and Emmanuel Frémiet and, of course, by painters like Eugène Delacroix, Jean Louis Géricault and George Stubbs. Bugatti would bring to this tradition his own vision, empathy with animals and truth to observation. He would surpass the genre of'animal art' and resist all definition as an artist, other than as one who forged his own vision and style. He used animal subjects at once for their own sake and as vehicles for the expression of emotion and the celebration of aesthetic form. He remained aloof from both the avant-garde and the conservative trends of his time. The distinctive, deeply rewarding, sometimes disturbing oeuvre that he created remains unique in art history.
The brother of the renowned automobile designer Ettore Bugatti, Rembrandt Bugatti created in his short lifetime an oeuvre comprising over 300 works, which is unique in its intensity and variety of form. With over 80 sculptural works, the exhibition in the Alte Nationalgalerie is the first major museum showing of Rembrandt Bugatti's works, setting the stage for a triumphant rediscovery of the artist. Although he enjoyed success during his lifetime and his work is still collected by enthusiasts, Bugatti remains largely unknown to the general public. Museums in Paris, Washington, and Antwerp have agreed to make loans for the exhibition. The majority of the works on display, however, are from international private collections that are showing their treasures publicly for the first time in the Nationalgalerie.
As a young man, Bugatti discovered the subject that would captivate him throughout his life: animals. While at first he mostly sculpted cows, Bugatti was later to find more exotic models in the zoos of Paris and Antwerp. His work featured animals such as anteaters, tapirs, Marabou storks, yaks, secretary birds, and kangaroos, introducing them into European art history as sculptural subjects for the very first time.
After a period of intensive observation, Bugatti would create models for nearly all his sculptures directly in front of the animal itself. The artist's extraordinary feeling for "the right moment" made it possible for him to capture an individual animal's most expressive gesture, thus creating incomparably lifelike portraits. He was particularly concerned with a precise depiction of the mannerisms, movements, and sentiments of his subjects.
Bugatti's oeuvre is generally distinguished by a remarkable control of the sculptural medium, and by its artistic spontaneity and freedom. His gift for precise observation and a strong capacity for empathy lend an enormous presence and authenticity to his work. The diversity of his models is as peerless as his sculptures' surfaces. The son of furniture designer Carlo Bugatti, Rembrandt was born in Milan into a highly artistic environment.
The painter Giovanni Segantini was his uncle, and composers such as Puccini and Leoncavallo were frequent guests at his parents' house. His talent was discovered and encouraged from an early age; his first exhibition was shown in Venice and later in Paris when he was only 18.
It caused a great sensation, bringing the young artist recognition and success. Through co-operation with gallerist, bronze-caster, and kindred spirit Adrien-Aurélien Hébrard, who also reproduced sculptures by Degas and Rodin, Bugatti's works were introduced into many collections in the form of masterful bronze castings. Troubled by the impact of the First World War, Bugatti took his life in Paris in 1916. He was only 31 years old. Rembrandt Bugatti: He knew'more animals than Noah.
The elder brother of Ettore Bugatti, the auto pioneer, spent his days at Antwerp Zoo sculpting its inhabitants. When he took his own life at the age of 31 he left behind around 300 works - ten of which are offered in New York on 4 December. Bugatti was one of the finest ever sculptors of animal figures. From jaguars and giraffes to kangaroos and cassowaries, the range of creatures sculpted by Rembrandt Bugatti 1884 - 1916.
Was so extensive that one peer joked he had known'more animals than Noah'. Born in Milan, Bugatti moved to Antwerp when he was in his early twenties - purely to allow easy access to the city's Royal Zoological Gardens, which was then the largest zoo in Europe. He spent days observing - and often interacting with - his subjects. Pieces by so-called'animaliers' had been popular, predominantly in France, from the 1830s to the end of the 19th century. Parisian sculptor Antoine-Louis Barye is widely considered the father of the movement, and counted King Louis Philippe among his patrons. Bugatti's career is often said to have represented the animalier's final hurrah. But where his predecessors had sculpted in their studios, relying on photographs and drawings, the Italian would spend days on end observing (and often interacting with) his subjects before settling to work in front of them. One key reason for this difference was Bugatti's use of plastilina, a revolutionary new wax- and oil-based type of modelling clay,' says Anika Guntrum, Director of Impressionist & Modern Art at Christie's in France. Sculptors before him had used and which hardens quickly, plastilina was very malleable and imposed no time limitations,' explains the specialist. This enabled Bugatti to sculpt.
At his own pace, and as a result, to be both more precise and more expressive in what he produced. His career was cut tragically short.
Bugatti found success at a young age, showing at the Venice Biennale when he was just 19 and receiving a Légion d'Honneur from the French government in 1911 at the age of just 27. The First World War, however, dramatically changed the course of his career: after having volunteered to work as a stretcher-bearer at an Antwerp hospital, he contracted tuberculosis - which was incurable at the time. Another blow for Bugatti was learning that, with food so scarce, all of the animals at the Antwerp zoo had to be put down.
In January 1916, at the age of 31, he took his own life. But if Bugatti's career was short, it was also expansive. In just over a decade, the prolific artist had experimented with Impressionism, Expressionism and Futurism, leaving behind around 300 works. He was unable to connect with people in the same way he did with animals. According to many anecdotes, Bugatti would often cross the street to avoid talking to friends and acquaintances.
But his love for animals, in contrast, was deep-felt - and this was evident in his art. Bugatti's human figures'lack the empathy and pathos of his animal figures', says Guntrum. Anything but generic, they show such acute characterisation that they might well be considered portraits. His collaborated with his younger brother, Ettore, to create an iconic car mascot. Rembrandt's father, Carlo Bugatti (1856 - 1940,) was a successful designer of Art Nouveau furniture.
In 1909 Rembrandt's younger brother, Ettore, founded the Bugatti automobile firm, which specialised in luxury and racing cars. In an act of sibling collaboration, Rembrandt designed the prancing elephant mascot for the bonnet of the classic Bugatti Royale. The figure was inspired by an African elephant called Rachel he'd seen at a Parisian zoo - an animal which also inspired a sculpture of very similar pose from the same time. Le grand éléphant du Muséum'Rachel'.
Several of his works feature more than one creature. Bugatti produced a fair number of pieces featuring more than one animal. Among the best of these are. Which depicts two elegant big cats. Dix minutes de repos ou Le grand fardier. An even more striking and unique example, is a remarkable feat of bronze-casting from a single mould. It captures six carthorses taking a brief break from their labours, each one different from the next. After decades in his brother's shadow, his reputation is enjoying a renaissance. Bugatti seems to have been rather forgotten after his death in 1916, characterful animal sculptures perhaps not having been considered to be in the vanguard of Modernism. For several decades, it could also be said that the family name held his reputation back: Bugatti meant cars, and Rembrandt remained stuck in his brother's shadow. Today, however, the market for works by Bugatti is'very strong', says Guntrum. Among his most lucrative beasts was. A depiction of a prowling tiger, with expressionistic striations on the surface that suggest the stripes of its fur. This item is in the category "Art\Art Posters". The seller is "willsusa_utzeqm" and is located in this country: US. This item can be shipped to United States, Canada, United Kingdom, Denmark, Romania, Slovakia, Bulgaria, Czech Republic, Finland, Hungary, Latvia, Lithuania, Malta, Estonia, Australia, Greece, Portugal, Cyprus, Slovenia, Japan, China, Sweden, South Korea, Indonesia, Taiwan, South Africa, Belgium, France, Hong Kong, Ireland, Netherlands, Poland, Spain, Italy, Germany, Austria, Bahamas, Israel, Mexico, New Zealand, Singapore, Switzerland, Norway, Saudi Arabia, United Arab Emirates, Qatar, Kuwait, Bahrain, Republic of Croatia, Malaysia, Chile, Colombia, Costa Rica, Panama, Trinidad and Tobago, Guatemala, Honduras, Jamaica, Barbados, Bangladesh, Bermuda, Brunei Darussalam, Bolivia, Egypt, French Guiana, Guernsey, Gibraltar, Guadeloupe, Iceland, Jersey, Jordan, Cambodia, Cayman Islands, Liechtenstein, Sri Lanka, Luxembourg, Monaco, Macau, Martinique, Maldives, Nicaragua, Oman, Pakistan, Paraguay, Reunion.
Artist: Rembrandt Bugatti
Character: Black Panther
Size: Large
Signed: No
Title: \
Material: Paper
Original/Licensed Reprint: Original
Region of Origin: California, USA
Framing: Framed
Franchise: Bugatti
Subject: Big Cat, Cats, Sculpture
Type: Poster
Item Height: 23 in
Theme: Art
Style: Art Deco, Art Nouveau
Features: Laminated, Limited Edition
Featured Person/Artist: Rembrandt Bugatti
Country/Region of Manufacture: Italy
Item Width: 44 in